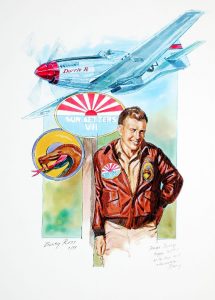 Commissions
Portraits of pilots and their aircraft
What lovelier gift for yourself, or another pilot in your life, than an original painting "biography"! It can be as simple as just the pilot with his current aircraft, or a montage of many elements that convey the full spectrum of an airman's life.
You provide the photographs and reference material, and together we will create a memorable art biography.
After receiving the reference material, and a deposit, I will submit a pencil sketch for your approval, and then complete the painting. Fees range from $1000 for a portrait of a plane, $1500 for a plane and a pilot, and incremental increases of $700 each for additional elements such as other planes, portraits, and scenes.
Please call or email me to discuss arranging a commission. You can contact me here.
– Barry Ross